The date is May 15t

h




10:00am




Only $55.00 Per Person




It's San Diego's newest action event. Indoor Skydiving has arrived in Mission Valley and you all are invited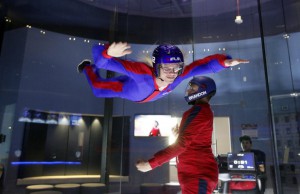 You too can fly like the birds. It's all the excitement of skydiving except for the big first step. It's a new state of the art wind tunnel and you get to be one of the first to enjoy the fun. On May 15th we are invited to experience flight! The cost of this event is only $55 and your flight video is included. Space is very limited so hurry. Your payment is your reservation.
When was the last time you had some
Real Fun!
2385 Camino Del Rio North
San Diego, CA
LET'S DO THIS!
Your $55 fee includes instruction & class room time,
an hour of group flight time.
Several turns in the wind tunnel,
And a video documenting your adventure.
We will probably meet at TGI Friday's or On the Border for a bite to eat afterwards.
Please submit your payment using the following link. I look forward to sharing this adventure with you. See you there!